Tips To Optimize Selling Your Home In The Fall
Posted by Angela Duong on Wednesday, August 19, 2015 at 8:11 PM
By Angela Duong / August 19, 2015
Comment
Have you thought about selling your home but wonder if you missed the "Springtime" fever? Many homeowners tend to think that Spring is the only time to sell their home. However, that is not the case. Homebuyers are looking to buy every day of the year. Therefore, there is no reason to wait until next year to sell.
Fall has officially begun, and I believe that it is a great time for home sellers to get their homes up on the market for the fall season. Take a look at the best months to sell a home, and you will see that Utah's best month to sell is October! So, if you are looking to get serious and get your home up on the market, then read on, as I share some of the best tips to sell your home in the fall.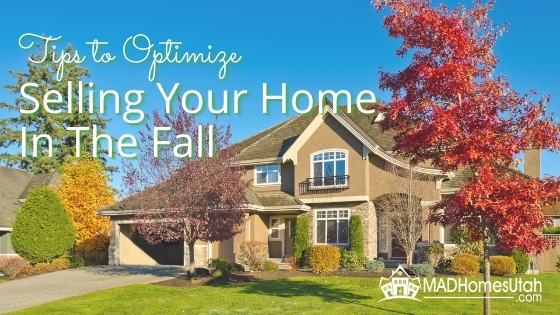 Call Your Realtor and Ask For a Market Analysis
Selling in the Fall is not for everyone. There may be situations where you must sell now due to a death, income loss, or relocation for your job. However, if you're not in dire need to sell, you want to make sure you have the equity to sell your home. No one wants to sell their home underwater if they don't have to.
The first thing you should do is call your local Realtor. Let them know that you would like to get a market analysis to determine the right time to sell your home. Your real estate agent should be able to tell you what your competition would be and the homes that have sold in the past and give you an estimated value of what your home could sell for in the current market. Be sure to avoid overpricing your home. Your real estate agent should be able to give you a current market value. If you like the numbers, then move forward with getting your home ready to sell. Be sure to act quickly, though. Living in Utah, you know how winter can come at us at the most unexpected time.
Clean Up The Exterior
Fall can be a beautiful time of year, but the fallen leaves and dead foliage can make your home appear not cared for. Complete these tasks to ensure a clean appearance to potential buyers driving by.
Clean the windows.
Rake up the leaves.
Get rid of the weeds.
Trim bushes and shrubs.
Trim down the dead flowers.
On top of beautifying the yard, you should also ensure that all the lights are working. Days begin to get shorter in fall, which means you will want to light up the front to allow buyers to see their way to the door.
While you have the ladder handy, be sure to clean the gutters out as well. This is an essential task to help prevent ice damming and the damage that results from it.
Get Your Home Show Ready
It's important to prepare your home for showing in any season to get it sold quickly and for top dollar. You've already completed the exterior tasks, but what should be done on the home's interior?
Ensure the carpets are clean.
Touch up paint, and re-paint any wall colors that might deter the sale.
Make minor repairs (don't forget to have your HVAC serviced before turning the heater on).
De-clutter and put away as much as possible to make the rooms appear larger.
Clean every nook and cranny to make your home gleam.
I would also like to suggest packing up everything you don't need at the moment. Fall gets chilly. You will be happy that you have everything in the garage and sheds already packed away.
Decorate for the Season
Selling in the fall is a great opportunity to stage your home with fall decor and pumpkins. If you know me, then you know that Fall is my absolute favorite time of the year. I love the changing colors of the trees and eating and drinking all the delicious pumpkin creations (especially the pumpkin roll), and I LOVE decorating for Halloween.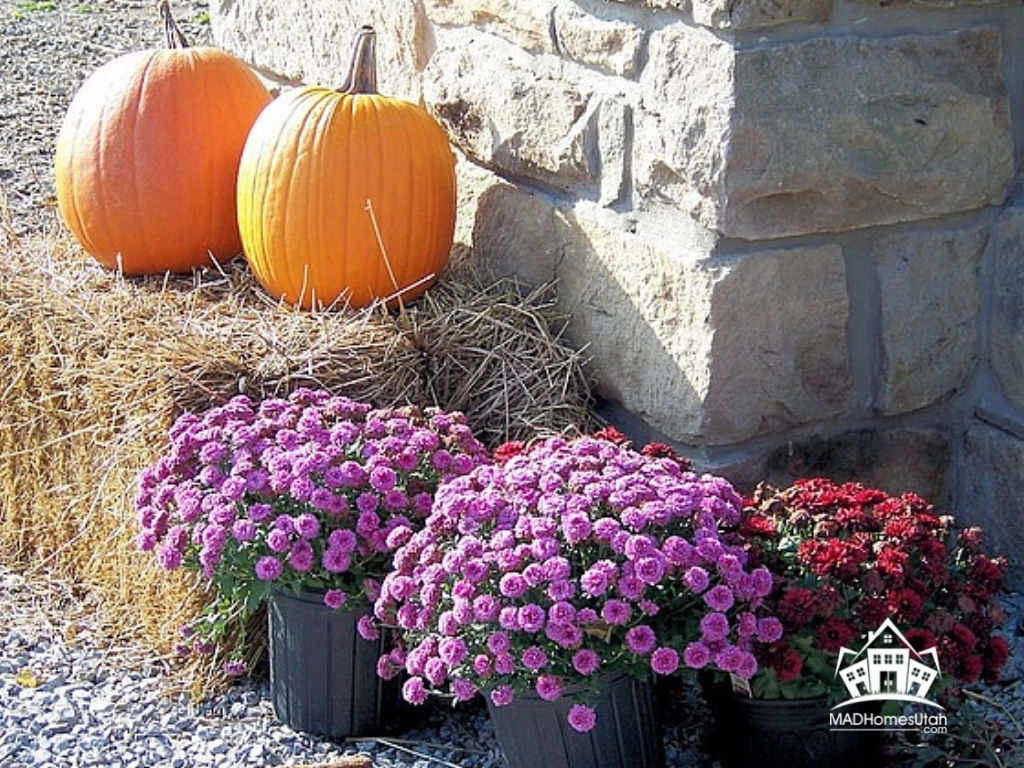 You too may also enjoy decorating for Halloween; however, if you are thinking about selling your home, I suggest staying on the more subtle side this Fall. Instead of Halloween, decorate for the Fall season that can carry on until Thanksgiving. It will save you from that extra stress of changing out the decor. It also prevents your home's photography photos from appearing old if they still show Halloween in them, but it has since passed.
Play up your front door with mums in planters and pumpkins along with the steps or walkways.
Place a beautiful fall wreath on the front door.
Place a few pumpkins around in the house with vases of red, yellow, or orange flowers from your local craft store.
Bake apple or pumpkin pies, or fake it with your favorite fall melting wax scent.
Looking for more fall decorating inspirations? Check out this Pinterest board of fall decor.
Final Thoughts
With diligent work in getting your home show ready and pricing it right, you can sell your home in the fall. With most homeowners believing that Spring is the best time to sell, you will have less competition and will be able to beat them to the punch. Price is key, but you must also think about show ability. There is no time to waste when it comes to selling in the fall. The temperatures will soon begin to drop, and the hustle and bustle o the holidays will soon be upon us.
Additional Resources


If you are in Northern Utah and want to ask us if selling your home in the fall is right for you, feel free to contact us. We would be happy to provide you with a market analysis to show you if the time is right. Move quickly; fall has already begun!