How To Prepare Your Home Now For A Quick Winter Sale!
Posted by Angela Duong on Friday, August 19, 2016 at 4:52 PM
By Angela Duong / August 19, 2016
Comment
The leaves have been changing to their beautiful fall color, and the temperatures are beginning to drop here in Tremonton, Utah. The fall season is officially in full swing, with Thanksgiving right around the corner. While you are sipping on that delicious Pumpkin Spice Latte, you may be thinking that it's time to make a move. There is a definite possibility that you can sell your home this fall, but what if the Winter snow creeps up on us sooner than expected? If you live in Utah, you know that is absolutely a possibility. Snow can arrive at any given time. Sometimes as early as mid-October. There are also those winters when the snow melts as quickly as it falls, and it doesn't feel much like winter at all.
Some folks believe that Spring is the only time to sell your home. However, this is completely not true. Homes sell all year long. With fewer homes on the market in the fall and winter, it can give a seller a great advantage with the lower inventory to compete with.
When you sell your home during the winter months, it's imperative to know that many home buyers are looking to get FHA loan type financing, which has additional requirements. The loan types you should be most concerned about are FHA, VA, USDA, and Utah Housing loans. These types of loans have specific requirements and standards that your home must follow to pass their inspections. With the winter's snow, this can hold up some of the required repairs, which will, in return, hold up the sale of your home.
In this article, I have put together some of the most common FHA-required repairs difficult to accomplish during the winter season. Complete these now in the fall, and you are sure to help keep the sale of your home on track, at least on the seller side of things.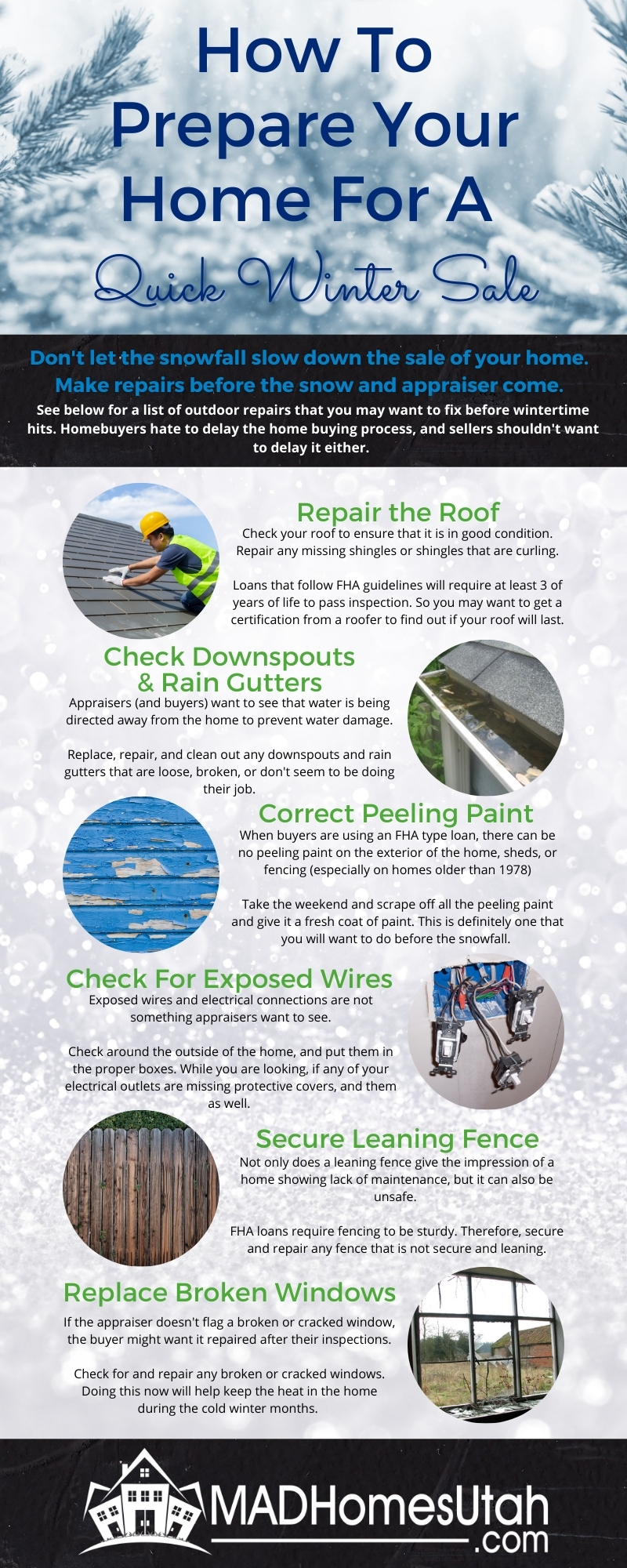 Repair the Roof
Make sure the roof is in good condition. If there are any missing or curling shingles, it is a good idea to have the shingles fixed and repaired. Did you know that FHA and USDA loans require your roof to have at least 3 years of life expectancy? If an appraiser sees any signs that may question the roof's life expectancy to be limited, they will require a roof inspection. Yes, you could hope that you get a cash buyer or one using conventional financing. However, this could limit your buyer options and changes of selling your home quickly. While your contractor is up on the roof replacing and repairing the shingles (you did hire a professional, didn't you?), you may want to ask if they will go ahead and make sure caulking around the flashing, piping, and any units you may have on the roof are in good condition.
Repair Rain Gutters
Check downspouts and rain gutters. Rain gutters direct rain and the melting snow to the downspouts, which should be directed away from the home's foundation. While checking and making any necessary repairs to the rain gutters, ensure they are free of fall leaves and debris. Having proper drainage away from the house will help prevent water leaks into the basement. Water damage in basements is definitely a red flag to home buyers, so it's best to ensure you take the proper precautions to prevent it from slowing the sale of your home quickly. If you do find yourself with a mishap and end up with water damage, fix it. It's important to fix water damage properly and don't forget to disclose it.
Repair Peeling Paint
Check for any peeling paint on the exterior of your home and outbuildings. This is one of the easiest, low-cost repairs you can do on your home. It is also one of the most commonly flagged repair items on FHA and USDA loans. Can you imagine trying to repair peeling paint with freezing temperatures and snowfall? Sometimes there is just a small bit of peeling paint around the doors and/or window trims, and sometimes it's more of a whole side of the house thanks to the hot sun. No matter how big or small, be sure to scrape and remove peeling paint before applying the new coat. If your home is 1978 or older, be sure to take the proper precautions due to the possibility of lead-based paint. If there is a lot of peeling paint that you are correcting, this will also make a big positive impact on the way potential homebuyers see your home. Remember, first impressions will set the mood and help you sell your home.
Repair Exposed Wires
Look for any exposed wires or electrical connections and get them covered. Exposed wires can be a big red flag and a safety issue. FHA and USDA loans require that exposed wires be in proper electrical boxes with cover plates. While you are checking for the exposed wires, check that electrical outlets have the proper covers to protect them from the wet snow. Appraisers will check the outside and inside of the home for exposed wires, so don't forget to do a walkthrough of the inside of the home. Appraisers check in even the attic.
Repair Falling Fencing
Check to ensure your fencing is standing up tall and sturdy. Most likely, if you have a vinyl or chain link fence, you won't have any problems. However, if your fence is made of wood, they tend to start leaning over time if not maintained. Some appraisers see that as a safety issue and require the fencing to either be removed or repaired. So be sure to correct any fencing that is leaning, broker, or not attached properly. This is a must, even if it's not flagged as a fix by an appraiser. Also, selling your home with a leaning fence may indicate a lack of maintaining the home to a buyer.
Repair Broken Windows
Replace broken and cracked windows. Again, this can be a big safety issue. This is another one of those items that FHA and USDA loans may require to be fixed. Even if it doesn't become an appraisal issue, most likely, a home buyer will ask that it be fixed after doing their inspections. This is one you will want to take care of before the snow arrives. BRRRR!
BONUS! Help Sell Your Home Fast This Winter By Doing These Two Things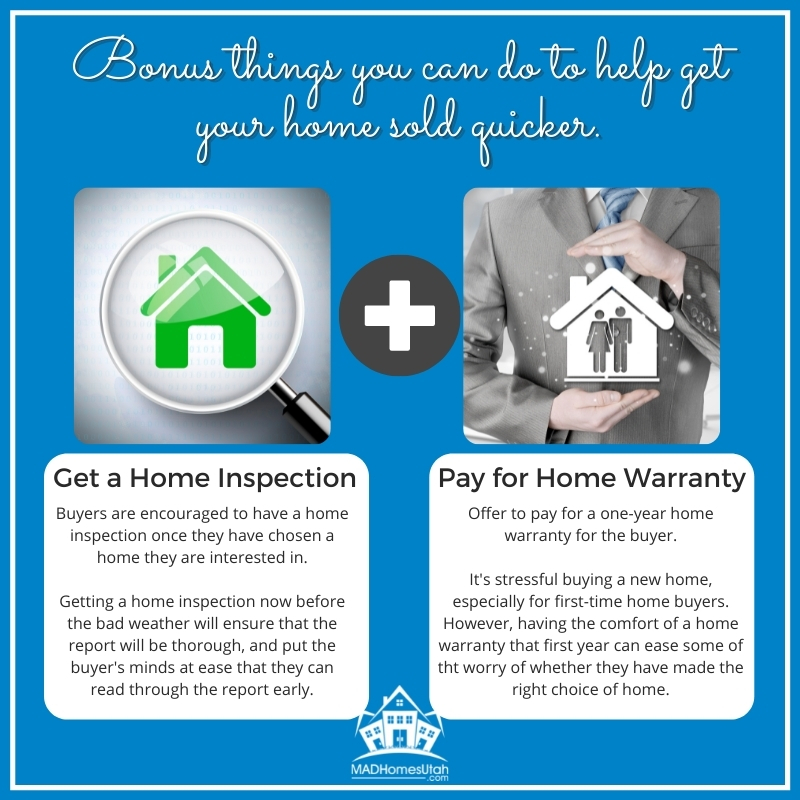 Bonus #1
Many home buyers are nervous about home buying—especially the first-time home buyers or ones that had a bad experience in the past. Not knowing if they will have to make updates and repairs after moving in can be stressful. Inspections can be a bit more difficult to complete in the wintertime. Inspectors can't get on the roof or inspect the outside well if all is covered in snow. So why not go ahead and get a home inspection and share the report with your potential home buyer. A home inspection costs around $300-$600 depending on the size and age of the home, along with the level of home inspection you choose. If you find any red flags, go ahead and fix them and note that you have completed them in the report.
Bonus #2
Offer to pay for a home warranty. A home warranty can put home buyers at ease. What is a home warranty, you ask? It is a service that you can pay for at the time of closing from your seller proceeds. A home warranty typically costs between $350-$600, depending on the company and the purchased plan. The home warranty covers many things such as appliances, plumbing, heating and cooling, and electrical, to name a few. The home warranty is good for one year, with the option for the buyer to pay to continue service. During that year, if any problems occur, the buyer can call the home warranty company and pay a service call fee of about $65, and the home warranty company will either fix or replace the item they called about.
Final Thoughts On Getting Your Home Sold Fast This Winter

Appraisers have been overloaded with orders to appraise homes lately in Tremonton and the surrounding areas. To minimize any delays in the sale of your home, be sure to make the necessary repairs ahead of time. If the appraiser must come back to check off any repairs, it tacks on an additional fee to the buyers and delays the appraisal up to another week. Additional items you may want to check on are ensuring that your water heater is strapped and that the overflow line is in place.
This blog post is meant to help you prepare your home for the appraiser to help minimize delays once you have a home buyer this winter. You must also prepare your home for sale to interest buyers in looking and making an offer. Be sure to clean and declutter your home, along with making sure you have great curb appeal. You can check out my blog post on how to prepare your home to sell in the fall to give you a jump start. Of course, when I mention fall decor, you will want to replace that with some festive winter decor for the wintertime.
When you are ready to sell, it is also important to pick the best real estate agent to do the job. Knowing how to market online, having their own website, and taking professional pictures are a must, among many other things.
If you want to sell your home and live in Northern Utah, we would love to help you. Request a free market analysis now. If you live in another area, we would be happy to refer you to an excellent realtor in that area, as we have contacts throughout the United States.
I hope that you enjoyed this article and would love your feedback in the comments below.
Additional resources you may find useful: