Home Buying Process Timeline [VIDEO]
Posted by Angela Duong on Saturday, August 31, 2019 at 3:50 PM
By Angela Duong / August 31, 2019
Comment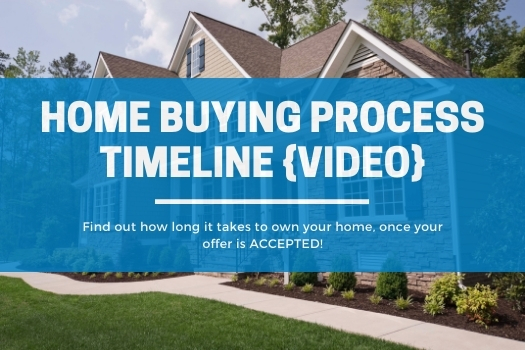 Today we are talking about the home buying process timeline. First, I want to let you know that we will speak to you about what we know in our Utah market. Some other states might have a different timeline, and you will want to check with the state you're in, or you can reach out to us, and we'll find an agent there for you that can help you with how their timelines work. So let's go ahead and get started.
Watch The Video of the Home Buying Process Timeline
How long does it take to buy a house once the offer is accepted?
So here in the State of Utah, it takes close to 30 to 45 days from when you get your home under contract.
This timeline does not include the time it takes to look for the home due to what you may be looking for in a home. Your wants, needs, price range, etc., can affect the time it takes, and it might not always be readily available. That could take 30 days, or it could take two months. We've had some buyers take a couple of years because they're just waiting to find that right property. So you can not include the time it takes searching for what you are wanting.
The other thing that might add to your timeline is that if your credit scores aren't perfect or you want to get them higher for a better interest rate, that's going to take time. It could be a couple of months, could be a little bit longer. Maybe you need to pay off some debts. So that can't be included in the timeline we are about to talk about.
Review Seller's Property Condition Disclosures
The first thing that's going to happen is that you will receive seller disclosures, which are typically anywhere between five to seven days. For those of you guys who don't know what seller disclosures are, it's basically seven to eight pages of a little bit about the house's history. Anything that is to the best of the homeowner's knowledge, like how long they've lived there... if they've ever had any problems, things like that.
Have A Home Inspection And Review The Results
The next step into the buying process is going to be the home inspection. From the time you get the contract accepted, usually, it's about two to two and a half weeks, depending on the dates that you put in the contract. And what you're going to want to do is go through the home with the home inspector. It usually costs about $300 to $600, depending on the size of the home and what you want them to do. What you are going to want to do is go through the report to see if it looks okay. If there are any major concerns, you can ask the seller if they will repair them, or you can cancel the contract. If they are minor, you can go ahead and say, hey, we're good with that and take care of them after the house is closed.
Keep the Lending Process Moving
When going over the seller disclosures and the home inspection, you need to make sure you keep your lender updated on any paperwork or anything else they need so we can continue the process smoothly.
Sometimes the things that they will need, even though you've already turned them in for your first pre-qualification, are updated forms. For example, you may have to send updated bank statements if you prequalified a few months ago, updated pay stubs, and they will want to know what homeowners insurance you want. There's just a lot of things that the lender will ask for during the process of you buying the home. And it's going to benefit you to keep up with all of that so that it doesn't delay any of the home buying processes.
Financing and Appraisal Deadline
So what happens next is the appraisal and financing deadline. Depending on how you've got it set up, whether it's the 30 or 45 days, usually, you want to have your appraisal and financing basically approved by week three or four. So what you need to do is make sure everything has been given to the lender. Your appraisal has come in good. And then you can move to the closing stages. And always remember time is of the essence.
Settlement and Closing Time
So the final step in the timeline is the settlement process.
You are going to get some closing disclosures about three days before the settlement deadline. It has to be at least three days before your actual signing date. It's going to show you all the numbers to make sure that you're good with everything. And then when it's time to sign, which will be your settlement deadline date on the contract, that is when you are going to go into the title company, and you will sign all the documents.
Don't be afraid, and make sure to work out your hands. Some of those packets are thick, but the title company goes over all the details, and we are there to answer any questions as well. So you want to work out those hands and get ready to sign your name, especially if you've got your middle name in there because that can get tiring.
So you will sign all the documents, the title company will send it back to the lender, and the lenders will also check the seller's signatures. And then, the lender is going to send the funds to the title company, which then the title company can disperse all the funds to the seller, agents, and other items on the payoff list. So then, it will be recorded at the courthouse in your name.
That entire process after signing usually takes to the next day, in the afternoon. But, in some cases, and with some lenders, you can get it done the same day. If all parties sign early enough, it could record later in the afternoon on the same day. So it really depends on how everything is going together.
You Are Now a Home Owner
After everything's done and the house is recorded at the courthouse, that's when we turn over the keys, and the home becomes yours! Time to celebrate!
And that is the home buying process timeline in a nutshell. See you next time.