Earnest Money - Do You Know What It Is?
Posted by Angela Duong on Tuesday, November 10, 2015 at 6:38 PM
By Angela Duong / November 10, 2015
Comment
"What is earnest money when buying a home?" This question is very common for first-time home buyers. Not only have I been asked this question by the first-timers, but I have been asked by home sellers as well. Most likely, it's because they had forgotten they, too, had to hand over earnest money when they bought their home. Earnest money is important to both the home buyer and the home seller. In this article, you will find out what earnest money is, as well as how to protect it. Read on to be fully educated about what earnest money is when buying a home.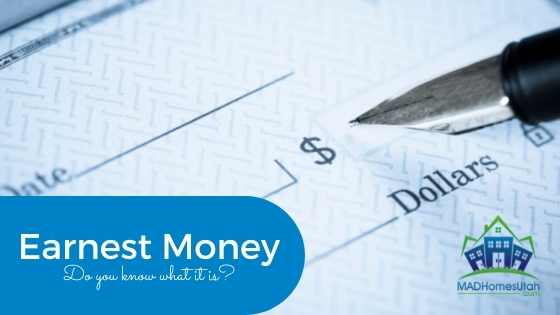 What is earnest money?
Earnest money is one of the first requirements for buying a home. When a home seller accepts an offer from a buyer, the house goes into "under contract" status and is removed from the market. The earnest money deposit tells the seller you are a serious buyer when making your offer. It is not considered down payment, but when it's time to sign on the home, the earnest money will count towards your down payment or closing costs. When you prepare to make an offer on the house, your Realtor will ask you how much earnest money you would like to give.
In Utah, the earnest money amount can vary. Some buyers may choose to do a percentage of the purchase price, whereas others may want to provide a flat dollar amount. I usually see a flat $1,000 to $3,000 earnest money deposit to give you an idea. Areas with higher-end properties will usually be a lot more earnest money. When buying a foreclosure or short sale, the banks may ask for a minimum earnest money deposit. Cash buyers usually make a more substantial deposit. Keep in mind when choosing the earnest money deposit amount, it can make or break the offer.
There are times that you might not be the only home buyer putting an offer on a home, and it turns into a multiple offer situation. Sometimes that earnest money deposit could be the deciding factor. Who wants the house more? The home buyer with the higher earnest money deposit and the right purchase price. (Another good idea is to send your pre-qualification letter from your lender along with your offer. That will show that you have at least spoken with a lender to get things going.
When does the earnest money need to be given?
In Utah, you have two options of when to hand over the earnest money.
You can give the earnest money to your Realtor at the time that you write the offer.
You can wait until the offer is accepted by both you as the buyer and the seller.
If you choose the latter of the two, you must give your real estate agent the earnest money within four (4) calendar days after acceptance. The Brokerage will then have (4) calendar days in which to deposit the earnest money.
What form of payment does my earnest money need to be?
You can pay your Earnest Money in the form of a cashier's check, wire transfer, or personal check. Cash is not advised, as you would want a type of receipt to track the earnest money deposit. In fact, many lenders won't even accept your earnest money deposit if you have given it in cash form. They want to see where the money is coming from. Don't use a credit card. Doing that could affect your debt to income ratio, and I don't even know of any real estate agencies that could take earnest money via credit card. (Actually, how about you freeze all your credit cards in ice until you have become an official homeowner).
You may want to ask your lender how they would prefer you to pay your Earnest Money. Some loan types want to see exactly where the money is coming from and from an account they have documented for you. For example, if you show a deposit into your checking account right before writing the check, you may have to write a letter explaining where the money came from.
Where does the earnest money go?
In Utah, the earnest money is most often given to the buyer's Real Estate company. The Brokerage then deposits the earnest money into the Brokerage Real Estate Trust Account, and it is held there until the closing of the sale.
Some real estate brokerages do not have a trust account. In those instances, the earnest money sits in escrow at the title company. Title companies may also be the preferred location of holding earnest money when the seller is a bank selling the home as a foreclosure. It will just depend on what their guidelines are.
Can I get my Earnest Money back if I cancel the contract?
Sure, you can. Just be certain you have followed all your deadlines. The Utah Real Estate Purchase Contract includes contingencies. You will choose which ones you would like to apply to your offer. When you make an offer on a home, you should always include contingencies in the offer.
The first one would be to complete your inspections, which is called the due diligence period. In your offer, you will have specified a date that you will complete your due diligence. The due diligence is usually about a 14-day window from when you wrote the offer. Before your due diligence deadline, you will be able to:
Go over the Seller's Property Condition Disclosures.
Have a home inspection.
Complete any additional tests and evaluations.
Check into the costs of Homeowner's Insurance and utilities
and many other items you can look into before the deadline.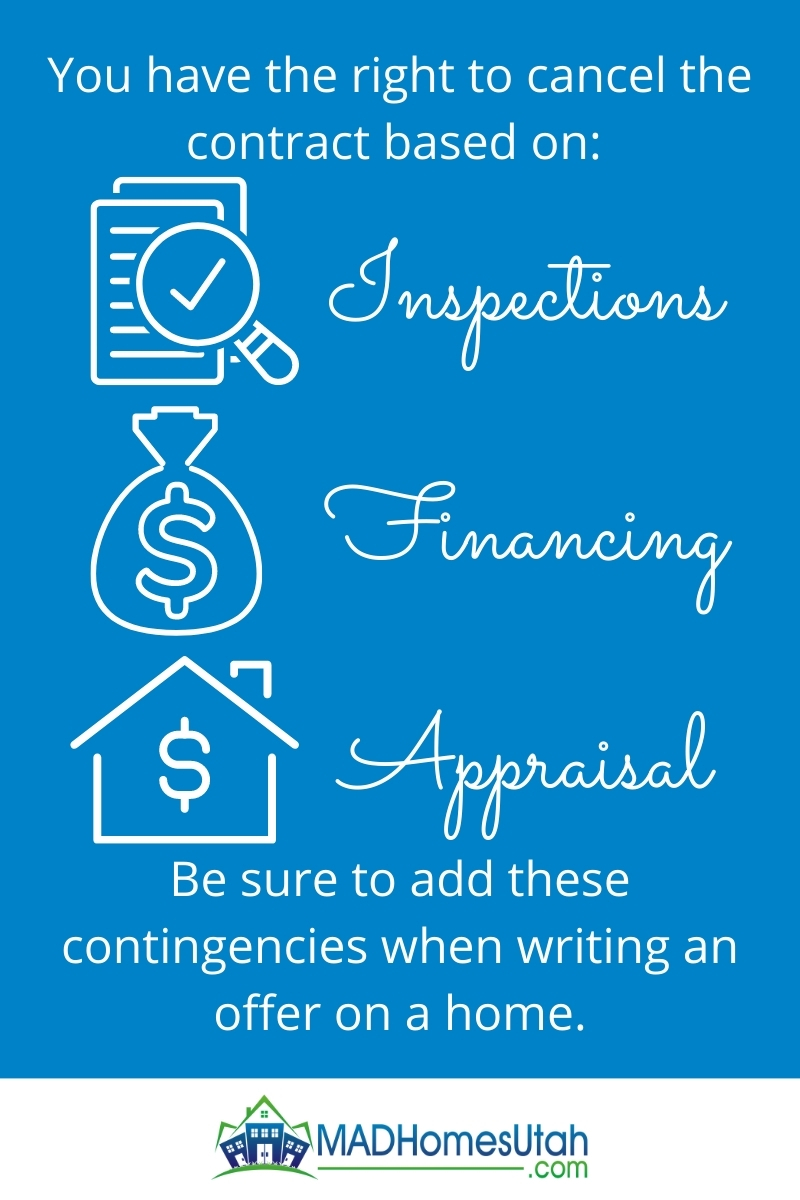 If you have an issue with any of your findings, you must bring it to the seller's attention before the deadline. You can ask if the seller will make the needed repairs or cancel the contract if the buyer and seller cannot work it out. If you must cancel the contract due to your due diligence, then you will get your earnest money returned if you cancel before the deadline.
Another contingency would be the buyer must be able to obtain financing (if not paying cash). In your offer, you will have a financing and appraisal deadline. For a lender to give you the funds for the home, it must appraise at or above the amount offered. If the appraisal comes back lower than the purchase price, a few different options can occur.
The purchase price can be adjusted to the appraised value, as long as both buyer and seller agree.
The buyer can choose to pay the difference over the appraised value using separate funds because a mortgage lender won't lend over the appraised value.
The buyer or seller can challenge the appraisal by showing proof of comparables. Another appraisal may be ordered, but there is no guarantee the appraised value will be higher.
Or the buyer can cancel the contract because the buyer and seller couldn't come to terms with the appraisal. But, again, if it is canceled before the deadline, the earnest money will go back to the buyer.
Besides the appraisal needing to come in at the purchase price, there is still the financing contingency. Although a buyer may be pre-approved, there is always a chance that the buyer could be denied the loan. There could be discrepancies in the buyers' information to the lender and the verified information from the documents submitted. Other issues may be changes in employment or credit card balances, or the buyer may have decided to purchase a new car (bad idea, people. BAD IDEA!) If any of these changes occur, it could affect their debt-to-income ratios, causing the buyer to no longer qualify for the home. If the buyer cancels the contract before the deadline due to financing, the earnest money will return to the buyer.
What if I am getting a loan that is 100% financing. Do I still need to provide Earnest Money?
The answer is yes. Luckily, there are still 100% financing mortgages, making homeownership possible for those with little or no down payment. There are VA loans for active military and veterans who want to buy without making a down payment. There are also USDA loans for rural areas. Fortunately, most of Box Elder County is still considered a rural area, making this loan program very popular in our area. There is also a Utah Housing loan program available to provide affordable housing for low and moderate-income buyers.
Even though these loans are 100% financing, you must still show you're a serious buyer and offer an earnest money deposit. It will provide the seller with the comfort that you have some money in your pocket and can afford to buy their home. When you close on the house, your earnest money deposit may be applied to your closing costs, or it may even be credited back to you and given back in the form of a check or wire at closing.
Final Thoughts

When you are ready to start looking to buy your first (or next) home, be prepared to provide earnest money when you make the offer. Be fairly certain that the home you are looking to invest in is the right one for you before you offer up the earnest money.
However, don't let the thought of handing over earnest money scare you. Keep in mind that you do not have to know everything about the home when you first offer. That is why there are deadlines written in the real estate purchase contract so that you can look it over and make your inspections.
Working with an excellent real estate agent is an important part of the buying process as well. A great Realtor will keep you informed of your deadlines and ensure that you complete all the necessary tasks within your time frames.
If you are looking for a real estate agent in Northern Utah that will provide you with excellent customer service and care, then give Mind Duong and Angela Duong a call at 435-225-3153 or 435-225-5200. "You can't go wrong using Duong!"
Here are some additional links to more information you may find useful:
Top 5 Tips Every First-Time Homebuyer Should Know via Angela Duong
What Comes After a Seller Accepts your Offer? via Ryan Fitzgerald
20 Important Mortgage Terms to Know via Paul Sian
Things to Consider About a Neighborhood When Buying a Home via Anita Clark
Top 5 Reasons A Mortgage Is Denied After Pre-Approval via Kyle Hiscock
Mortgage Pre-approval vs. Pre-qualification via Bill Gassett