3 Reasons Not To Let In That Home Buyer
Posted by Angela Duong on Monday, November 16, 2015 at 1:59 PM
By Angela Duong / November 16, 2015
Comment
A Buyer Knocks On Your Door - Do You Let Them In?
You have your home listed with a great real estate agent, which means you are looking to get your home sold. An interested buyer knocks on your door and asks if they can see your home. Of course, your first thought would be to let them in.
After all, this could be the buyer that is going to buy your home. Wrong! Read on to find out why you SHOULD NOT let that potential home buyer in.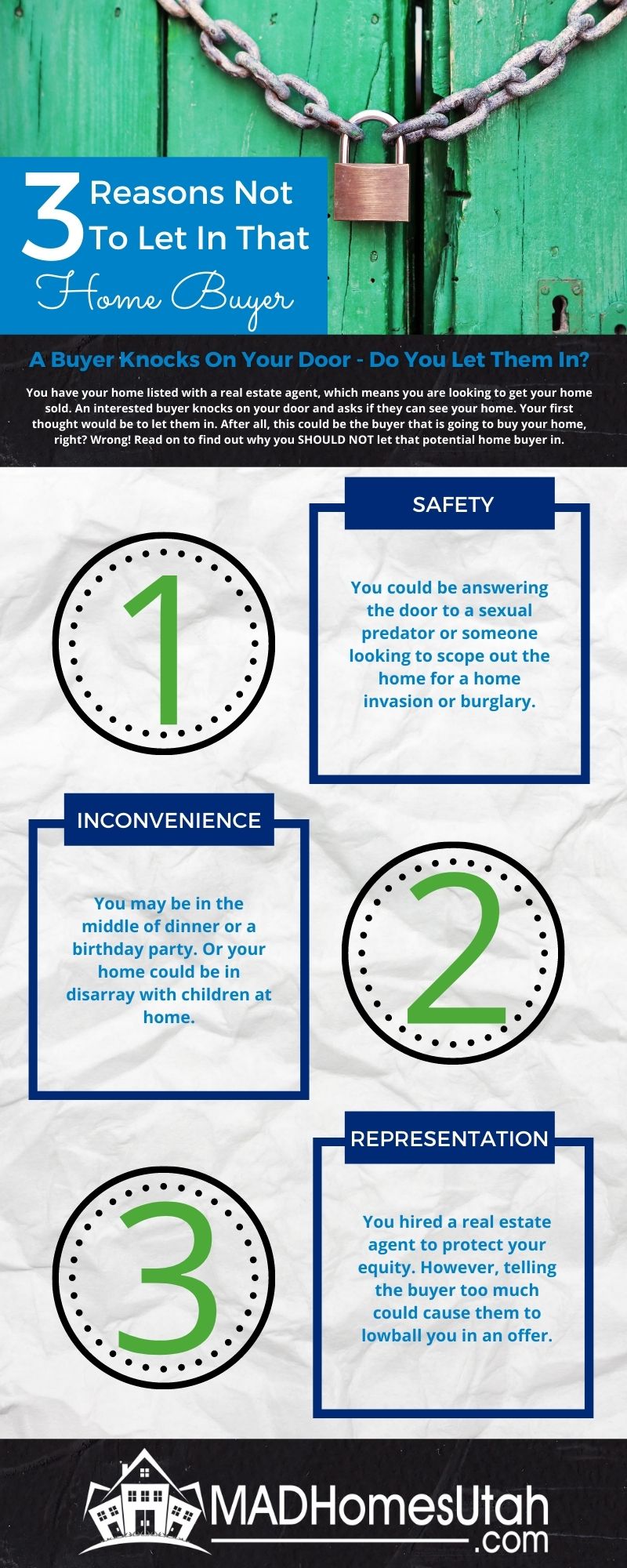 Safety
The number one reason why you should not let a home buyer into your home is as a safety precaution. Of course, you hope that this could be the buyer that you have been waiting for. However, they could also be a sexual predator looking for a way into your home.
Another scenario could be that they can scope out the home for a home invasion and burglary later on. In today's world, you can't trust anyone.
Here's the thing. When appointments are made, there will always be a real estate agent there with the home buyer. No one can get into your home without a key. I do hope that you lock your doors all the time.
Only real estate agents have access to the key box that holds your key. Therefore, when your key is placed in an electronic key box, and an agent accesses it, your real estate agent will get notified.
If any problems arise at your home, your agent will know who the last one in the house was. Along with that, the buyer's agent will have the home buyer's name and contact information.
If you let a home buyer in your home, you will not have any contact information for that home buyer. Sure, they can give you a name, phone number, and email address, but it could be anybody's information if it is not verified. Or no ones at all.
Inconvenience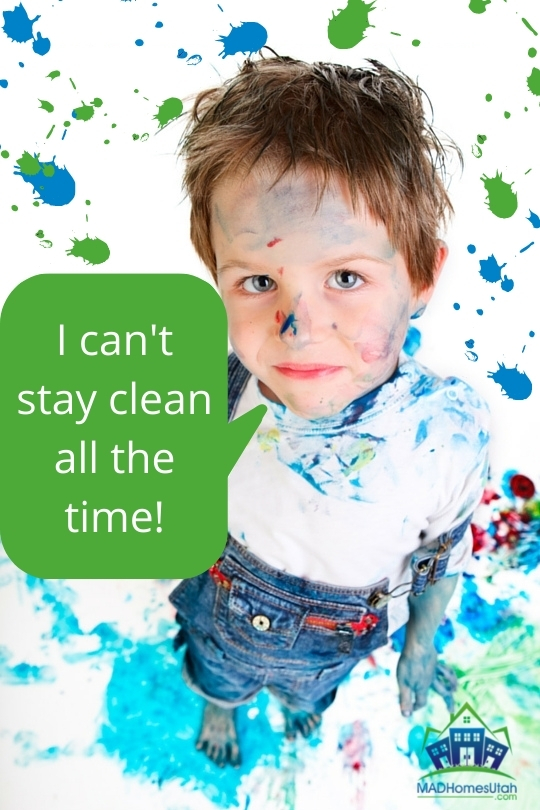 When you are selling your home, the purpose of home showing appointments is to be prepared for the showing. Having the beds made, the dishes cleaned, the dirty clothes picked up, etc. If you are like our family, with four children, then you know that it is almost impossible to keep a home in "showing condition" 100% of the time.
So if a home buyer comes to your door and your home is in disarray, it will make the showing a bit awkward. Many home buyers may look past the mess, but at times that is all the home buyers see.
In addition, you may be in the middle of eating dinner with your family or enjoying a birthday party.
Appointments are made for you to prepare for the showing and to be out of the home so that homebuyers can see the home as their own. If you are letting them in, you will surely not want to leave them alone while roaming the house.
Representation
Another reason you should not let a home buyer in is for the simple fact that your real estate agent isn't there to represent you. A home buyer's seemingly harmless questions to you could compromise your negotiation position.
If you tell them too much, they could end up talking you down in price when it is time to make an offer. If they know that you MUST sell due to a divorce, relocation, or job loss, they may lowball you on price, knowing that you NEED to get your home sold.
Another situation may be that they want to make an offer to you right then and there. The first issue is, you have a signed contract with a real estate agent to sell our home. Even if you agree on terms with a buyer, you will still be obligated to pay the agreed-upon brokerage fee (aka real estate commission). Another is that real estate agents use binding real estate contracts to protect you as the seller. Any purchase agreement should be in writing.
So what should you do if a buyer comes knocking at your door?
I tell my home sellers here in Tremonton, Utah, to let the home buyers know that your home is only shown by appointment and through a real estate agent. Hand them your real estate agent's business card, and let them know they can schedule an appointment directly with your real estate agent. You can also inform them that they may find their own real estate agent to represent them and make an appointment on their behalf.
If a real estate agent shows up at the door and you are unaware of any appointment, I would still not let them in until that agent has contacted your real estate agent to verify that it is okay to show. Even if you are okay with the last-minute showing, it should still be verified with your real estate agent. Again, you are opening the door, which means that the real estate agent won't use the electronic key box. Therefore, your agent won't have their contact information if any problems arise.
Final Thoughts
Stay safe. Only show your home by appointment, and let your real estate agent represent you at all times. After all, that is why you hired them in the first place. Keep a stack of business cards handy to hand out to the potential buyers.
Additional Resources
Why Sellers Need A Realtor® via Anita Clark
Ways to Protect Your Personal Items While Your Home is For Sale via Cortiers Real Estate